Drone Existence 2017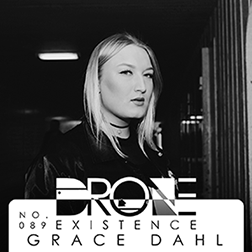 Drone Podcast 089 - Grace Dahl
Many thanks to Arweenn for his contribution on the Drone Podcast we will keep an eye on this young talent, and not to forget his upcoming EP Mushroom Effect on Dolma Records! We will keep you posted as soon as it releases the 25th of September.
For our next Drone Podcast, We have a young Techno Minded Hero straight from our hometown Amsterdam. At the moment she is working hard to be one of the biggest upcoming rising Techno talents. And since early 2016 she has been racking up gigs like a maniac in and around our fine capital. With over more than 20 Gigs, winning the 2017 Play! Festival contest, and already hosting her own night called ATMOS, she is off to a powerful start!
For this edition she granted us a 1 hour studiomix aiming to deliver a skilled balance between energetic and atmospherical sounds driven by bass heavy techno. And so we are very pleased to welcome on the Drone Podcast No.089: Grace Dahl.
Please enjoy!
Tracklist
Not available!
Biography
"Grace Dahl is a Tech House and Techno DJ/Producer making a name for herself with her stellar DJ performances and her flourishing skill for production.
During her constant progression of knowledge and experience in the Techno scene, her sound continues to develop on numerous levels. Grace now aims to deliver a skilled balance between energetic, atmospheric sounds and restless kicks in bass-heavy Techno.
By mid-2016, she was granted the possibility to curate her own night called ATMOS. Combining forces of experienced artists and talented newcomers, she strives to present high-quality club nights.
Since the start of 2017, she has been able to present her advanced sound at prominent stages such as Poema RAW and Sugarfactory. Her first festival debut at Play Festival was achieved after earning the first place of the Technostate Inc. DJ contest.
Being surrounded by electronic music since she was born, it was only natural for this 20-year-old to evolve into a music industry professional. Ambitious as she is, she will always look for authentic ways to provide a new and promising sound."
Booking
Booking:gracekdahl@gmail.com
Links
Soundcloud: https://soundcloud.com/gracedahl