Drone Existence 2017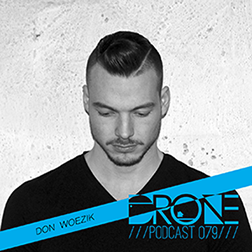 Drone Podcast 079 - Don Woezik
Many thanks to Mike Wall for his set. More info about Mike Wall can be found on our website.
Up next, with his roots from the Netherlands (Eindhoven) and now based in Sweden (Malmo) this Techno Minded Hero is working hard to elevate as a producer, DJ and promoter. With releases on labels such as Reload Records, Refluxed Records and his latest release called Format on 7teen Records, he is defintly worth checking out.
His vision on Techno is portrayed not only in his music and sets, but also in his input to create a Techno friendly environment in his hometown Malmo, and as a co-worker in underground club Malmorave. If this is the first time you will hear our next Techno Minded Hero, this will definitely not be the last.
With a bright future ahead, we are more than happy to welcome on the Drone Podcast No. 079: Don Woezik.
Please enjoy!
Tracklist
Not available!
Biography
Don Woezik (Malmørave/Reload Records/Refluxed Records/7Teen Records)
Don Woezik is a DJ and Producer from Eindhoven, Netherlands. He moved to Sweden in early 2001 and grew up in MalmÃ, Sweden. Started as a drummer in his early days and began his love for percussions and hi-hats. Later on he moved his drumming skills to electronic devices and began his journey in the electronic music scene.
His passion for Techno and his strong determination for making progress resulted in being a Co-host of one of MalmÃ`s biggest and renowned underground club called Malmørave. When he`s not making events, he spends his time in the studio making new productions, some of them released on labels such as Reloaded Records, Refluxed Records and 7Teen Records.
Don Woezik`s sets are always packed with much energy and adventure from start to end. Throughout his sets, he likes to bring forward new and unique sounds to get the crowd to feel an experience rather then a normal DJ-set.
Booking
DJ Bookings: donwoezik@gmail.com
Links
Soundcloud: https://soundcloud.com/donwoezik