Drone Existence 2018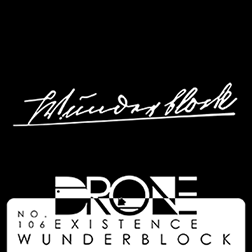 Drone Podcast 106 - Wunderblock
Welcome to a new episode of the Drone Podcast. First up a big thanks to Dan Darco for his hypnotic techno set. We really enjoyed it!
Now it's time for our next Techno Minded Hero, or should we say 'Heroes', to take the helm on the show. We would like to welcome Wunderblock! Wunderblock is founded ten years ago in Moscow and excists of Michael Teplov, Igor Ivanov and Vladimir Kochenov. This project focuses on experimental techno with a touch of jazz and ambient.
The last decade Wunderblock released music on labels as Planet Rhythm, Labrynth, Ketama Records and more. In 2013 Wunderblock decided it was time for their own imprint and started Wunderblock Records.
Wunderblock provides us this week with a live recording from their gig from Mosaique club in St. Petersburg. As they said themselves it was a mayhem party and the recording reflects on that.
We really loved the recording and know for sure the listeners will as well. So without further ado we are more than excited to have on the Drone Podcast No. 106: Wunderblock.
Tracklist
Not available!
Biography
Members: Igor Ivanov, Michael Teploff, Vladimir Kochenov.
The term of Wunderblock is related to the concept by Siegmund Freud from his work "Notiz über den "Wunderblock" (1925). Freud regarded the Wunderblock as a perfect metaphor for the process of recording memories. According to Freud, the mind records memories continually receiving stimuli and transferring traces of that information to the unconscious to be stored as memories.
Experimental techno project Wunderblock was founded ten years ago in Moscow, Russia by Michael Teplov, also known from the late 90's for his Ill Doggy project on Salo Records, Berlin, and as one half of Multipliar on the famous Cologne imprint Trapez. In 2008 Michael has teamed up with producers Igor Ivanov and Vladimir Kochenov to join forces in a creation of the unique Wunderblock sound – an eclectic mix of techno, dub and experimental electronica with a touch of ambience and a jazzy feel.
During the last decade Wunderblock has released a wide spectrum of music on such labels as Planet Rhythm, Children Of Tomorrow, FormResonance, Labrynth, Ketama Records, and more. In 2013 the team has decided to start its own imprint with more underground, darker techno sound. Thus Wunderblock Records was launched, and now it is among of the most significant labels on the underground techno scene. The Label releases, digital and also vinyl, are regularly supported by top techno DJ's worldwide.
fter a powerful debut in 2015 at Berlin's legendary landmark Tresor Club, Wunderblock has launched the series of the Label Showcases in Berlin, Moscow, St.Petersburg and Nantes.
Booking
booking@wunderblock.org
Links
Soundcloud: https://soundcloud.com/ill-doggy