Drone Existence 2017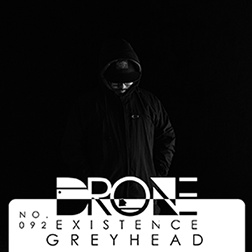 Drone Podcast 092 - Greyhead
Techno music is known for its wide range of styles within the genre. On this weeks show we are traveling to the more darker and deeper sound of Techno.
Our next Techno Minded Hero is able to combine styles within the genre and let the backbone of Techno music, which is the driving force, stand out. Altogether a strong and hypnotic sound is what he delivers. And we love it.
Besides his producing and DJ-ing skills, he is label owner of K-84 Records. A massive influence on the Techno scene all over South America. A hard-working artist with a great talent and the right vibe, reason for us for wanting him on the Drone Podcast.
You are in for a great journey with a massive drive and great hypnotic sounds.
We are very happy to welcome on the Drone Podcast: Greyhead
Please enjoy!
Tracklist
Aert - Object C
ArchivOne - Track Two
Future 16 - Seismic Refraction
LNA - Veils
NX1 - EOD5
WarinD - Amluk (Interferon Remix)
ArchivOne - Track One
LNA - Veils - Oposition Remix
KMYLE - Telephatic Synchrony
ArchivOne - High Cut
Hemka - Carott Cake (Mayeul Remix)
Marla Singer - Saleep
Mayeul and JKS - Triangulation Hill
Oliver Kucera - Donker Groen (Original Mix)
TRAX-X - Hodensack
Helrad - Royal Mile (Original Mix)
Al Ferox - Evil Groove (Original Mix)
X Panic Dispenser - Bersagliamento (Original Mix)
Biography
Greyhead, DJ / Producer, Santiago - Chile. Already with several years inside the scene Underground of Chile, Greyhead is a lover of the dark sounds, experiments and pisteros, combination that has like virtue Techno Music. Greyhead has performed in events and stages with outstanding artists such as: Snts, David Meiser, Synthek, Joton, Developer, Joaquin Ruiz, Durcheinander, Julixo, in clubs / festivals throughout Chile and abroad as well as in case of Buenos Aires.
As a producer, he has edited important labels such as Android Muziq (Australia), Morforecs (Spain), Utch (Chile) and Labrynth (USA), Hypnotic Conception (Arg) among others, participating in Compilations and creating works with artists like : Oscar Mulero, Energun ,Regis , Stanislav Tolkachev , James Ruskin , Inigo Kennedy , Coefficient, C- System , Elektrabel ,Maks , Héctor Oaks , Samuli Kemppi, Lewis Fautzi , Joton, Mary Velo, Feyser, Mike Parker, MTD , BRIXTON , i1 ambivalent , ALHEK ,Komabase , H. Paul , Bruno Ledesma , Komprezzor , Gronotek , The Ripped , Forward Strategy Group , Charlton , Mattias Fridell , Michaelangelo , Abstract Division , The Plant Worker , Voidloss , VCI , Mark Rogan, Mato Mutante ,Lokodepo , Aleja Sanchez, Alessio Pili, D.O.O.M, Enclave, Gabeen, Krocro, Raftek, Scam., YYYY ,Sceptical C ,Eric Fetcher, Matthias Springer, Mezmeric, Minds Diverted, Wunderblock, JLG, Moving Thoughts, N.d, David Reina, Deepnoise, Dorian Gray, Pjotr G, Random Audio, K-Nari, MISCELLAR MINDS, Plukkk, Matias Bagato, Vladw, Obscure Live, JoyB, Dubiosity, D-Leria, Corvum, Advanced Human, y Más…
Today he owns one of the most influential and recognized Techno labels of recent years in South America "K-84 Records", in which recognized artists of the genre participated. He has been the creator of "Yafün", the first compilation of Techno with national artists in the history of the country.(Chile)
He is one of the creators of the duo FUTURE UPSIDE, in which most of his presentations have the particularity of being in Live act format. Greyhead is also one of the founders of UFO GROUP, organization that generated a revival of the Techno in Chile, He has also been one of the inspirers in the beginnings of Fractal (FWO), collective of Southern Chile (Puerto Montt).
Booking
Booking: https://www.facebook.com/greyheadtechno
Links
Beatport: https://soundcloud.com/greyheadk84
Facebook: https://www.facebook.com/greyheadtechno/
Soundcloud: https://www.beatport.com/artist/greyhead/408233