Drone Existence 2017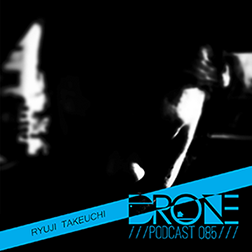 Drone Podcast 085 - Ryuji Takeuchi
Many thanks to Uron for their amazing podcast. If you want to know more about them and what they do visit our website or facebook where you can find all the links.
For our next Techno Minded Hero, we have the first artist from Japan (Osaka) on the podcast show. And are we thrilled about this one!
This producer and DJ has been around for a while, releasing on labels such as A.Paul's Naked Launch, Mastertraxx, Glenn Wilson's Compound, Gobsmacked, Hue Helix to name a few, and since 2010 he started his own label Local Sound Network on which he released much of his own work and music by artists like Lars Klein, Audio Injection, Excluded and other's!
This Techno Minded Hero knows his music as you can hear on the latest Drone Podcast. He granted us the second part of a set recorded the 8th of April 2017 at HAGANE. And so we are very happy to have him on the Drone Podcast No.085: Ryuji Takeuchi
Please enjoy!
Tracklist
Not available!
Biography
Ryuji Takeuchi (Local Sound Network / LSN, HueHelix) was born in Osaka, and then first contacted with Electronic Music in the early 90s.
In the late 90s, he moved to the United States, where he discovered Techno, House and Electro Music.
As soon as he got back, he started to DJ at several locations and eventually learned to produce at the same time. After that, he released on such labels as: LK Rec, Arms, Mastertraxx, FK Rec, Innervate, Silent Steps, Brood Audio, to name but a few.
In 2011, Ryuji started his own imprint called 'Local Sound Network / LSN' as a platform for new generation of electronic sound which following words can appropriately describe: driving, hypnotic, atmospheric, emotional, groovy, funky… and any other aspects that rock from brain to the dance floor under the following statement:
From local to global…
It exists in order to inspire the world…
Also, Ryuji kicked off another brand new label called 'HueHelix / HHX' as a new platform, which discloses something new, only represented by HueHelix, together with Go Hiyama, Tomohiko Sagae and Kazuya Kawakami, in order to push quality music with global standard from where sun rises.
In 2012, Ryuji launched 'Local Sound Network Digital Solutions / LSNDS' series in need of discovering and introducing wider range of electronic music, aiming at dropping unique audio output while it's hot. Music style varies. All top quality output from new and established producers all over the world with its bottom line as follows:
We deliver,
What we believe,
What we believe in…
Keep your eyes and ears open for this guy, he never stops.
Booking
Local Sound Network (Worldwide, Japan): booking@localsoundnetwork.com
Links