Drone Existence 2017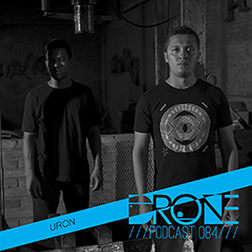 Drone Podcast 084 - Uron
Many thanks to Loktibrada, what a wonderful set! be sure to follow him on soundcloud and your liking list on facebook!
Passion is the founder of many great artists. Passion and love for the music, to be inspired by heroes and to be guided by your gut feeling. Combined with love for the development of hardware, our next Techno Minded Heroes are born.
This duo operates from Colombia. Driven to grow and expand, while being influenced by new sounds. They are the founders of the succesfull label Deletech Records. Setting a new standard in the Colombian scene.
We are truly pleased to have them on Drone Podcast No.084: Uron
Please enjoy!
Tracklist
Not available!
Biography
Everything Starts In The Beginning of the 21st century when we listened for the first time this amazing genre called electronic music in special Carl Cox and his amazing job with the vinyls and the great álbum by Mauro Picotto Called La Iguana, From there grew this passion this love for the electronic music then with more experience Juan David And David Padilla decide Works together with new name called `Uron` The union Of Two Worlds.
In the passion of make his own music they start to make music with one pc and 2 speakers and this leads them to be in wide variety of respected labels such as: Organism from Swiss, Analytic Trail (Markantionio) from Napoles, Remain Records (Axel Karakasis) from Greece Refluxed Records (Andres Gil) from Colombia.
Uron is passion for techno music and not just releasing on other artists labels now they have there own label called Deletech Records.
Uron Recorded Podcast for: By The Future Underground, Yellow Podcast, Among Podcast, Hola Thump and more. And they also played alongside: Joseph Capriati, Tim Xavier, Alexi Delano, Camea, Nicole Moudaber, Rino Cerrone, and many more!
Booking
DJ Bookings: deletechrecs@hotmail.com
Links
Soundcloud: https://soundcloud.com/uronmusic
Facebook: https://www.facebook.com/uronlive