Drone Existence 2018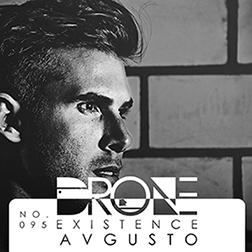 Drone Podcast 095 - Avgusto
Many thanks to Lars Huismann for kicking off 2018 with such an awesome set! If you share our opinion be sure to follow him on Soundcloud or Facebook because he has some great stuff in the pipeline!
Our next Techno Minded Hero is born in Italy but based in Berlin. He is part of Florian Meindl's Flash Recordings crew, Where he on regular basis drops awesome bombs of tracks, like his latest EP: https://flashrec.bandcamp.com/album/craters-ep.
And many other labels like Echo Audio records, Eclipse Recordings, Connective Records, Walls, OBSKUR MUSIC, Riot Recordings, Struktur, Mind Games recordings, Fartlek Recordings, Kaputt, Corresponding Position.
For his output on the Drone Podcast, he granted us a part of his vinyl set, recorded at Arena Club in Berlin on the 01.12.2017 last year on a FLASH Labelnight.
We are very happy to have him on the Drone Podcast No.095: Avgusto
Please enjoy!
Tracklist
Not available!
Biography
Just Listen!
Booking
Booking@flash-rec.com
Links
Soundcloud: https://soundcloud.com/avgusto