Drone Existence 2018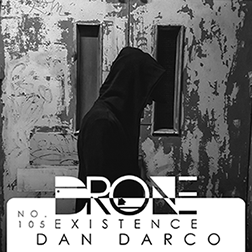 Drone Podcast 105 - Dan Darco
Welcome to the Drone Podcast. Many thanks to Kristopher Morder for his vision on Techno in his 1 hour mix for the Drone Podcast No. 104. We are truly blessed to have him on the show and we are convinced that he is here to stay. We recommend to keep an eye out for this hero, like we will.
Our next Techno Minded Hero is a young and talented DJ from Malmo, Sweden. Not a unknown place for us, because it is also the hometown from Drone Podcast participant Don Woezik (Drone Podcast N0. 079). Our next hero has a great love for hypnotic Techno and Techno with an ongoing drive. His various Podcast sessions and gigs are a solid proof of this fact. While being involved with multiple styles of music in his career he found his true love for Techno music. We are happy to have him here on the Drone Podcast show.
In this mix you can expect a great vibe, an ongoing drive packed in a solid mix. We would like to welcome to the Drone family and here for the Drone Podcast No. 105: Dan Darco.
Tracklist
Not available!
Biography
Dan Darco has been playing in various clubs and festivals in Stockholm, Berlin, Copenhagen and even brought his sound to Nairobi in Kenya to name a few. His musical journey has been unique and interesting starting at early age where he took notice on drumming and 4/4 beat by his fathers musical background as a drummer in a rockband. He later on found his passion for electronic music starting with Drum and bass, moving further on to Tech-House and then into hypnotic Techno.
Booking
dan.darco@live.com
Links
Soundcloud: www.soundcloud.com/dan-darco
Facebook: www.facebook.com/dandarcoofficial